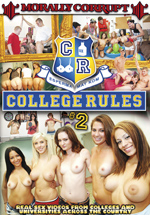 Release date: July 25, 2011
Featuring: Castlist not available
Esperma May Kom
Real Sex Videos From Colleges and Universities Across The Country
Universities and Community Colleges From Around The World!

Fun-Loving Coeds
These are some bad ass bitches! Especially the big-tit blond with her sweet smile and amazing tight ass. I mean if you like girl-on-girl action, full out kissing, tit sucking and ass play, and of course fucking this is for you!

Foos My Balls Baby!
These students were hanging out in their school's rec room and things got a little out of hand. They were the only group in the room at the time so they took advantage of the rare opportunity and started playing some frisky games like naked ping pong, strip Football and naked girl boxing.

Lauren My Whore Roommate
Lauren didn't seem to mind being recorded engaging in random acts of debauchery. Having a slutty sorority girl running around naked is pretty damn sweet, getting involved in threesomes, and even two cocks in one shot.

Indoor Pool Party
So, Winter is almost over and these crazy frat boys and co-eds just couldn't wait to take there tops off and have some fun! So they decided to throw their very own indoor pool party. Best of all the girls had no shame in showing us their tight bodies and juicy pussies.