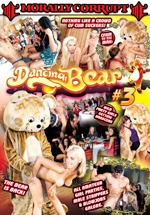 Release date: September 07, 2011
Featuring: Castlist not available
Wild Party Girls Getting Hardcore!
The Bear Is Back!
Do You Know Where Your Girlfriend Is? Hopefully Not Sucking The Dancing Bears' Dick!

One Wild Party
Our parties just keep getting bigger and bigger, with more hot women begging for cock. I really don't even know how many showed up for this one, but it was a lot! It took our 7 guys a while to get around the whole club on this one…all of them droppin' loads on these gorgeous females. So get comfortable, sit back and enjoy the show!

One Last Suck and Fuck
We love bachelorette parties. It's usually a last chance for one lady and all of her bridesmaids to have one more night of fun…and that includes sucking a lot of dicks. We brought in the best of the best of our Dancing Bear entertainers and had an all out good time with these ladies. Want to see the bride to be get a load on her face before she gets married? Hell yeah! Come on in!