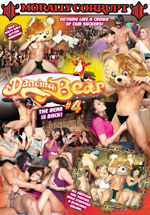 Release date: November 16, 2011
Featuring: Castlist not available
Wild Party Girls Getting Hardcore!
The Bear Is Back!
Do You Know Where Your Girlfriend Is? Hopefully Not Sucking The Dancing Bears' Dick!

Blowing & Banging
We have a ton of horny and sexy ladies for you today! We hit up a local spot and let the women flock to our lineup of guys! Gorgeous women sucking dick left and right. So many Hotties it will make your head spin. And when the girls want to FUCK, we let them!!! You're in for a treat so get comfy and enjoy!

Jasmine's Going Away
These sexy girls decided to throw a party for their friend Jasmine who was leaving the company and they did it in style! We went to this office building and were pleased to find a bevy of sexy young ladies ready to party! I don't know what the hell these girls do, but they looked hot in their sexy business skirts and outfits. They were down to suck dick and take some vicious cumshots. These girls did not disappoint us!!