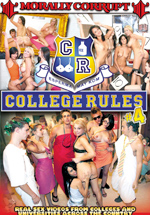 Release date: December 21, 2011
Featuring: Castlist not available
Esperma May Kom
Real Sex Videos From Colleges and Universities Across The Country
Universities and Community Colleges From Around The World!

TOGA ORGY
So this week on College Rules, we have a video submitted by a Fraternity of one of their recent Toga parties. The girls went looking for the best dick to suck and the guys were looking for the best ass to fuck. In the end, it turned into one hell of an orgy!

PANTY RAID
So this week we received a submission from Fraternity in the middle of a panty raid. Everything was going great till the guys got caught and that's when the real fun begins! The girls take pity on the guys but don't let them of the hook that easily. They decided to have them strip down and fuck their brains out! This is one awesome college orgy! Enjoy

THE GIRLS ARE ON THE HUNT FOR COCK!
This week we got a rather nice submission from a Sorority down south. The girls went on a cock hunt and decided to hunt for the best piece of meat "The Freshman". Well, as they did their rounds they came across some dorks with nice cocks! They rated the boys on cock size and taste. The girls put on one hell of a show. We gave them a nice, gooey prize for their efforts.

SEX 101
We got a pretty cool video from a girl this week. She said it was for her human sexuality class. Who knows, but this shit is crazy! She went around her dorms asking for volunteers to fuck on video and do crazy shit. She sucks one guy's dick and he blows a load all over her face, then she sets up a hidden camera and catches her roommate masturbating, which was hot as fuck! This chick had some GREAT tits. There's also some good fucking going on. The main girl is obviously a freak because otherwise she wouldn't have made this fucking great video!