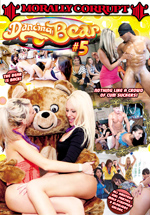 Release date: January 18, 2012
Featuring: Castlist not available
Wild Party Girls Getting Hardcore!
The Bear Is Back!
Do You Know Where Your Girlfriend Is? Hopefully Not Sucking The Dancing Bears' Dick!

The Girls Are Outta Control
So we hit up this girls house for one hell of a house party! The strippers were on point but the real stars of the show were the girls. They came ready with dick sucking skills. They had me going nuts! I couldn't keep up with all the action. I was running all over the place trying to capture it all!

Here's The Bear
GIRLS, GIRLS, AND MORE GIRLS! This was a great party! We had 6 of our top strippers on hand and a shit load of sexy, horny women waiting just to suck some dick. We've had a great variety of hot women up in our clubs and this one is no exception. Cute and sexy girls trying to get some horny bear cock! Enjoy!