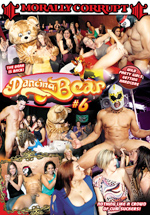 Release date: March 28, 2012
Featuring: Castlist not available
Wild Party Girls Getting Hardcore!
The Bear Is Back!
Do You Know Where Your Girlfriend Is? Hopefully Not Sucking The Dancing Bears' Dick!

Suck and Fuck
Some new strippers along with a ton of hot new ladies are ready to feast! We couldn't hold these ladies back from taste testing each of our guys, and these ladies were horny as ever! Two of these fine women got FUCKED in front of everyone at the party! It was awesome!

Sea Of Women
We got a great lineup of strippers tonight for a whole club FULL of lovely ladies. We had so many women that we had to expand our show to feed all their needs! Dick after dick, after dick, gets sucked by these gorgeous Hotties! It's enough to make your fucking head spin!