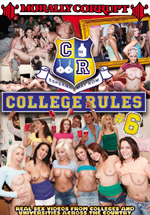 Release date: August 08, 2012
Featuring: Castlist not available
Esperma May Kom
Real Sex Videos From Colleges and Universities Across The Country
Universities and Community Colleges From Around The World!

FALL 2009 PRANKS AT FONTANTA HALL
This week's submission features some outlandish pranks that occurred at Fontanta Hall. We have to say the girls at this school are wild and slutty! Just how we like them. They aren't afraid to show some skin for the camera and take a cock like a slut. So next time you ask someone to get you a beer, check it before you take a sip!

THE SWEETHEARTS
These girls have just become the "sweethearts". This title is given to the hottest and freakiest girls on campus. The roast is hosted by the local Frat and each guys gets to pick which "Sweetheart" he will give the honor of roasting. Each guy goes into the party and grabs the girls one by one and leads them to the roast on camera, Once the girls enter the back room to be roasted its on! These coeds have been waiting all year for their chance to prove why they deserve to carry the title "Sweetheart".

LAUREN MY WHORE ROOMMATE
So this week we received a pretty cool video from a film student on the west coast. Her name is Amy, and she thought that exploiting her roommate's slutty behavior would give her a chance to with the 10K and boy was she right. Amy documented a week in the life of her slutty roommate Lauren. Having a slutty sorority girl running around naked is pretty damn sweet, getting involved in threesomes, and even taking two cocks in one shot. And of course it wouldn't be college without a little lesbian action.

SHAKE THAT ASS
It's that time again and we have another video submission winner!! This week's video comes from the dirty south and these girls know how to get down n dirty to win a fucking contest! This video has it all: an ass-shaking contest, wet t-shirt contest, girl-on-girl action and some hard pounding. Not to mention a shit load of big round asses and cute blondes. I hope you guys enjoy this one just as much as we did here.