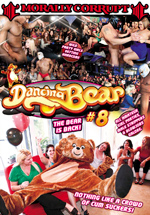 Release date: October 01, 2012
Featuring: Castlist not available
Wild Party Girls Getting Hardcore!
The Bear Is Back!
Do You Know Where Your Girlfriend Is? Hopefully Not Sucking The Dancing Bears' Dick!

YEAR END BLOWOUT!
We have an awesome show lined up for you guys! We've got our most talented strippers and a boatload of sexy horny ladies waiting to show each other their dick sucking skills! What better way to close out the year than tons of pop shots all over beautiful women? See you in 2013!

JORDAN'S DIVORCETTE'S PARTY
Today, the girls decided to have a celebration in the name of Jordan's divorce. After 8 years of marriage, she is ready to have another man's dick in her mouth and inside of her. The girls also take advantage of the Dancing Bears but Jordan is fired up and sucks every dick that walks by and makes sure the Dancing Bear pounds her pussy before the party is over. Enjoy!