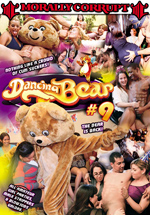 Release date: November 17, 2012
Featuring: Castlist not available
Wild Party Girls Getting Hardcore!
The Bear Is Back!
Do You Know Where Your Girlfriend Is? Hopefully Not Sucking The Dancing Bears' Dick!

REMY'S DANCING BEAR FIESTA
Let me tell you guys, women do crazy things at these bachelorette parties! Dick sucking and cum drinking for starters but today's bachelorette tried her hardest to stay away from the Dancing Bear male strippers. All the girls knew she wanted 1 maybe 2 dicks in her mouth!

ALAINA'S FIESTA
It's a beautiful thing to see women celebrate their birthdays with the Dancing Bears. Today we have Alaina celebrating her birthday with us and let me tell you, the girls are having too much fun especially the birthday girl who gets dicked down by the Dancing Bear himself!