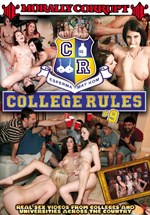 Release date: March 04, 2013
Featuring: Castlist not available
Real Sex Videos From Colleges And Universities Across The Country!
The Best College Sex Videos You Have Ever Seen!
Universities and Community Colleges From Around The World!

Slutty Sorority
This week we have a revenge video from a couple of crazy coeds. Zerena and her friend wanted to expose one of the more popular sororities on campus by taking a camera into a party. The girls made sure to get things going by flashing their tits in order to loosen up the other girls into doing some slutty things. The girls managed to get great footage of ass shaking, tit grabbing and even a couple of students fucking in the back rooms of the house!

Beer Pong Hunnies
Beer Pong is always a fun time, especially with titties and ass in the mix! This week's submission winners gave us just that! The object of the game was not to drink a beer when the ball made it into the cup, but instead the losers had to either flash some skin or suck a tit or cock. It was boys against girls and of course the ladies lost, which is great because all of the girls at this *** frat party were smoking fucking hot! You guys will enjoy this one!!!

The Pledge
This week's college submission is from three smoking hot co-eds from the *** sorority. They were breaking in a pledge from a frat and had complete control of the poor guy. They stripped him down and treated him like a dog, which in reality isn't too much of a bad thing considering how hot these four co-eds are! They gave the pledge a chance to fuck all four of them under one condition: He couldn't get hard while they dyked out on each other, a tough task for any man but this pledge somehow managed to stay soft long enough to reap the benefits.

Orgy at the Dorm!
There's nothing like being in a room full of hot females that are butt ass naked and totally ready for whatever...these girls absolutely rock! Nothing but ass, tits and pussy pounding going on, with some anal-plug action thrown in. The guys felt like they were in heaven! Come see what goes on behind closed doors in these "anything goes" dorms!