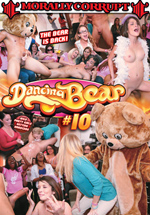 Release date: March 18, 2013
Featuring: Castlist not available
Wild Party Girls Getting Hardcore!
The Bear Is Back!
Do You Know Where Your Girlfriend Is? Hopefully Not Sucking The Dancing Bears' Dick!

Christie's Bachelorette Party
Christie is about to tie the knot so we decided to throw her a super bachelorette party before she is locked down for the rest of her life. We think that maybe she was having a little too much fun. She sucks a lot of cock and is very curious to have one inside her. It won't be easy for her to do in front of everyone there, but our male strippers are up to the challenge. What do you think Christie did? Come in and see for yourself!

Office Party Cock Blowout
This week's Dancing Bear adventure comes to you from an office full of cock craving girls! Our male strippers strutted their goods as usual and as usual the girls got mad crazy right away showing off their cock sucking skills. These girls really took it to a whole new level and our cameras where there to witness the whole crazy mess! Enjoy!