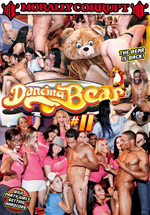 Release date: May 14, 2013
Featuring: Castlist not available
Wild Party Girls Getting Hardcore!
The Bear Is Back!
Do You Know Where Your Girlfriend Is? Hopefully Not Sucking The Dancing Bears' Dick!

There Is Sex In The VIP Room
Melissa is getting married so her bridesmaids decided to give her one hell of a sendoff, and we at the DANCING BEAR were ready to help a sister out. There is a lot of sucking and definitely a lot of fucking in the VIP room. You guys won't want to miss this one! Enjoy!

The Bear Is In The House!
Our home girl decided to be a very good friend and get all her girls a special surprise. She hired the BEAR for her house party! Needless to say all the girls were happy and ready to suck dick and I do mean a lot of dick sucking to go around. Our guys had a ball and the girls really enjoyed the party!