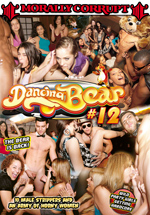 Release date: July 17, 2013
Featuring: Castlist not available
Wild Party Girls Getting Hardcore!
The Bear Is Back!
Do You Know Where Your Girlfriend Is? Hopefully Not Sucking The Dancing Bears' Dick!

Blow Job Frenzy
We blew it out today with a nightclub full of hot and horny college girls looking for a good time! These girls got nutty once the guys bared all so-to-speak. I don't even know how many mouths touched our cocks in this update. Blondes, Latinas, Ebony girls, and Milfs all got in the mix. However, the part that got me going was this hot ass Latin chick that wouldn't let Rick go until she got every drop of his man juice. Enjoy!

Crazy Ass Male Review
After a slow week, we decided to throw our own party dubbing it the 1st Annual Dancing Bear Review, which was a huge success! We rented a local bar for the night and managed get the word out enough to fill every seat in the house with a bunch of wild girls ready to party! It was a beautiful sight: hundreds of little chick hands grabbing at each guy and half as many hungry mouths salivating for their turn to taste some cock. This is one episode not to miss!