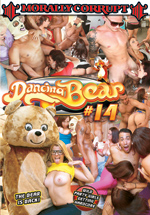 Release date: November 13, 2013
Featuring: Castlist not available
Wild Party Girls Getting Hardcore!
The Bear Is Back!
Do You Know Where Your Girlfriend Is? Hopefully Not Sucking The Dancing Bears' Dick!

Bachelorette Loft Party
These crazy girls are having a bachelorette party in their loft, and what better entertainment than the dancing bear crew ready to sling some hard dicks on their faces! These girls are not shy around the cock, they are horny as hell and ready to suck on these hot rods when they come by! This party got fast and furious with dicks and chicks all over the place.

Last Night To Get Some Dick
These girls are out tonight for their friend who is about to get married…and they are out for one thing only…COCK. They were sucking and slobbering on them in no time. The bride-to-be is drop dead gorgeous and she gets a nice facial…right before the wedding!