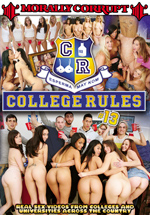 Release date: November 20, 2013
Featuring: Castlist not available
Real Sex Videos From Colleges And Universities Across The Country!
The Best College Sex Videos You Have Ever Seen!
Universities and Community Colleges From Around The World!

Fuck 'em good!
These sisters are having a party for their pledges, and the objective of tonight is to see which of the girls can fuck the best! Sounds like a fun challenge. The girls go out to the party and pick their favorite guys and then they all fuck the shit living out of them!

Crazy College Party
This college party starts off with a nice game of strip beer pong. The girls quickly get stripped of their clothes and this party turns into an all-out college style orgy!

Who's Sucking My Cock?
These girls are going to play a little game with some of their male college buddies. They paper bag them and then have them guess who is sucking their dicks and fucking them. These 3 lucky guys get fucked and get to blow some nice loads on these horny college teens.

Hardcore Orgy With College Girls
These college dudes have caught their girlfriends cheating and decided to get some payback. They invited a bunch of college girls over to their place and had an awesome time with them!