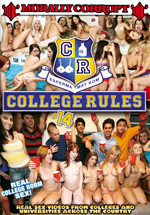 Release date: January 27, 2014
Featuring: Castlist not available
Real College Dorm Sex!
Real Sex Videos From Colleges And Universities Across The Country!
The Best College Sex Videos You Have Ever Seen!

Universities and Community Colleges From Around The World!

Slut Contest
So this week's submission winner comes from some Florida girls that wanted quick and easy cash. From girl-on-girl kissing to a finger in the butt, they thought of it all! They even tried deep throat a mega sized dildo, which we love seeing! Enjoy!

Wild Night
Here's an off campus party where things got a little crazy. These slutty coeds had no shame in stripping down and sucking dick in front of the camera. If you're a fan of big juicy fat asses then this video is for you because there is plenty of ass to go around!

Deep Throat Contest
These little college girlfriends are getting together to have a blow job contest to see who can deep throat a dildo the furthest. They eventually bring in a real dick to deep throat and all have a good time marking his dick up with lipstick. He fucked them all and sprayed a nice cum shot all over 3 lovely faces at the end!

Dorm Sex For The Money!
These horny college chicks have their eye on the College Rules prize! They eat each other's pussies out and then start fucking each other with a dildo. That was hot, but a couple of the other girls decide to get some dudes into the room and fuck them like there is no tomorrow. College is fucking awesome!