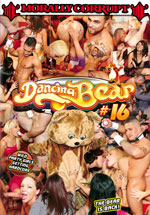 Release date: March 10, 2014
Featuring: Castlist not available
Wild Party Girls Getting Hardcore!
The Bear Is Back!
Do You Know Where Your Girlfriend Is? Hopefully Not Sucking The Dancing Bears' Dick!

Crashing the Club Dancing Bear Style!
The dancing bear crew is in the house! We are up in the local club with a few of our talented guys and a whole sea of horny women just waiting to get their mouths filled with some hot dick! These girls suck dick like it's their job, and are not afraid to put a little whipped cream on the hot dog and go to town!

Birthday Cock
What more can a girl and group of her horny sexy friends ask for than swinging dicks in their faces waiting to get sucked and fucked!?? These girls know how to throw a birthday bash! The birthday girl even gets fucked and a huge load on her face! Happy birthday sweetheart!