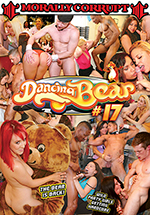 Release date: May 12, 2014
Featuring: Castlist not available
Wild Party Girls Getting Hardcore!
The Bear Is Back!
Do You Know Where Your Girlfriend Is? Hopefully Not Sucking The Dancing Bears' Dick!

Cake Cum
A lucky girl is having her 30th Birthday bash at her office, and the dancing bear crew is there to start this party off right! These girls have no shame, and don't seem to care about chowing down on some shaft in front of each other! A sexy Asian girl gets fucked hard for the grand finale, and a nut gets busted on some birthday cake for two girls to chow down on! Happy fu king birthday honey!

One Last Cock
This bride and her friends have thrown a huge banquet party for one last fling, which means strippers, drinks, sexy ladies, and lots of raw cock meat flying all over the place! These girls are ready to go and get amped up when the bear comes out and starts busting some moves. The girls jump on the dicks and suck 'em sloppy!