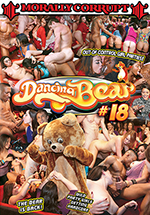 Release date: July 14, 2014
Featuring: Castlist not available
Wild Party Girls Getting Hardcore!
The Bear Is Back!
Do You Know Where Your Girlfriend Is? Hopefully Not Sucking The Dancing Bears' Dick!

Club Sucking
We're back in the club for a HUGE Dancing Bear party that's sure to get your nut off! We've got some seriously sexy ladies in the house today that are ready to suck on some man meat and get some hot loads in the face! These girls know how to work the magic stick, we even saw Phoenix get deep throated! Damn!

Clubbin' With the Bear!
Dancing Bear is in the house, or I should say in the Club! We've taken this club over and are in full effect with the bear and gang. These horny, sexy, wonderful ladies are ready to get some cock in their mouths and some facials on their faces! There are some ridiculous girls in the club tonight and no shortage of hot ass to go around.