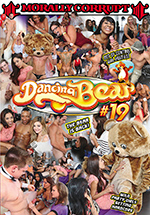 Release date: September 08, 2014
Featuring: Castlist not available
Wild Party Girls Getting Hardcore!
The Bear Is Back!
Do You Know Where Your Girlfriend Is? Hopefully Not Sucking The Dancing Bears' Dick!

House Party!
The Dancing Bear crew is invading this house party full of hot and sexy horny women that love to suck some cock. These ladies are ready to suck on some man meat and get hot loads on their faces! They have no shame and cheer each other on to see who can suck dick the best!

Hair Salon Dick Party!
We got a request to come to a surprise party at a hair salon and we were more than happy to oblige! Our best crew went to feed the need of these sexy ladies that were ready and more than willing to suck on some hard dicks! It was amazing.. hot ladies took huge loads on the face and loved every second of it!