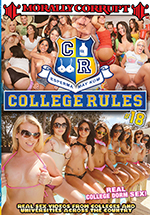 Release date: September 17, 2014
Featuring: Castlist not available
Real College Dorm Sex!
Real Sex Videos From Colleges And Universities Across The Country!
The Best College Sex Videos You Have Ever Seen!

Universities and Community Colleges From Around The World!

College Girls Get Down
It started off innocently enough; a few girls losing their clothes here and there, but peer pressure is an amazing thing. Soon these chicks were acting like sluts , swallowing dicks and getting pounded out. Oh, college...

Wheel of FUN!
These students built their own wheel of fun! The wheel has sex categories and and you have to do whatever you land on. What a brilliant fucking idea! These girls are freaking wild and DOWN TO FUCK! They didn't hesitate on what they landed on and some even preferred to pick what they wanted to do…college style!

Fucking College Chicks At The Pool Party
We got this tape in. It starts off with a pool party, lots of hot girls, stripping down, dancing and shaking their asses. We got some nice hot pussy shots and then they break into an all out college backyard orgy! Girls eating each others pussies, guys fucking chicks! Man I wish my college had been like this!

Party and Fuck!
We have a house full of horny college chicks down to get fucked up and ready to get their pussies pounded. They played a game of Flip Cup and things kind of got out of hand. The clothes came off and the girls went wild. Sucking dick and getting fucked, all for the love of College.