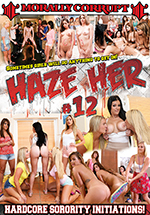 Release date: October 22, 2014
Featuring: Castlist not available
Sometimes Girls Will Do Anything To Get In!
Hardcore Sorority Initiations!
All-Girl Action

Naked Delivery
Three rushes were rounded up, stripped down and made to deliver gift baskets to some guys totally naked! After delivering a couple of baskets the rushes had to put on a little show for everyone in that dorm with naked leap frog. The real treat was their final task. The pitiful rushes had to have a three way and make each other cum in order to be accepted by their sisters.

Thank You Sister, May I Have Another?
These sisters have 4 fresh, sexy rushes under their control and they are putting them through the paces. First they made them take off all their clothes and carry a jelly dildo between their tits, then the girls all got a hard paddling on their asses. Even the head sister took off her clothes and soon they were all moaning and eating pussy like little sluts.

Fucking Their Boyfriends
These two blonde rushes are here trying to get into this sorority today but they have a surprise waiting for them. The evil sisters want to see if these sluts have what it takes, so they torture them by making them watch as the rushes' boyfriends get their dick sucked and fuck the sisters, before switching up while the sisters watch! This one was evil genius!

Lesbian Roommates
The head sister of Kappa is here to show a couple rushes what they need to do in order to get into this pussy munching sorority. Stripped down and embarrassed in front of each other, they're shown their problem areas and then told to eat the sisters pussy in order to be accepted! These girls were super shy and hesitant. They got themselves into a world of shit, but an hour later they were singing a different tune!