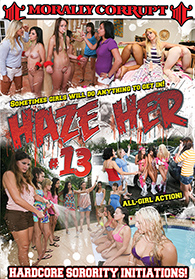 Release date: December 17, 2014
Featuring: Castlist not available
Sometimes Girls Will Do Anything To Get In!
Hardcore Sorority Initiations!
All-Girl Action

No Dirty Sluts Allowed
This weeks Haze Her submission comes from Florida where the weather seemed to be down right dirty like the rushes in this video. Apparently they were flirting with the boyfriends of a couple of sisters and that is frowned upon big time here. The rushes had to strip and get hosed down. After they received the hose they had to lick each others pussies and prove to the sisterhood that they are worthy of acceptance

Submissive Rushes
These girls have their rushes well trained and submissive as can be. The rushes were told to strip down, suck tits and make each other cum and do all this with a smile. They show us how well their rushes follow instructions. These sisters really mutted out their rushes and we loved every second of it.

Hot Cunt Sundae!
Today we got a hold of some of our freshmen pledges who were a little out of shape and put them through a nice round of hazing. In reality, they weren't so out of shape at all. They all had sweet asses and nice perky tits. We just wanted to mess with them a little, and at the same time get off on them eating pussy. Check out the paces we put these little bitches through.

Top Secrets Of The Sisterhood
The sisters at this sorority don't play games. They met up with these girls from their college that wanna join real bad. Well, let's see how bad they want to join. The three girls had to get butt naked in the parking lot and be blindfolded. Once back at the dorm all hell broke loose. These girls had to display their raw talents and act like horny bitches!