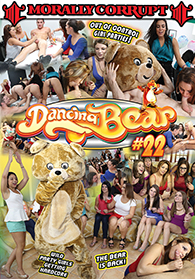 Release date: March 18, 2015
Featuring: Castlist not available
Wild Party Girls Getting Hardcore!
The Bear Is Back!
Do You Know Where Your Girlfriend Is? Hopefully Not Sucking The Dancing Bears' Dick!

Room Full Of Cock Suckers!
Women love the Dancing Bear! What's better than a room full of women that are sexy and horny, looking to suck cock? Once the dancers came out these cock suckers went into a dick drunk frenzy! The women at this party wanted cock slapped on their faces and in their mouths. Watch them go crazy when the Dancing Bear dancers drop their loads!

Horny Ladies In The House!
We always leave the ladies feeling satisfied, even if it's a house full of them. Stripping down to boxers and getting our dick sucked by more than one girl is how we roll! Dicks, dicks and more dicks going in and out of these girls mouths. Enjoy!