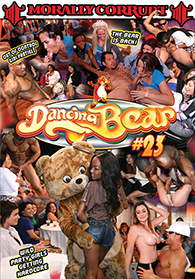 Release date: May 20, 2015
Featuring: Castlist not available
Wild Party Girls Getting Hardcore!
The Bear Is Back!
Do You Know Where Your Girlfriend Is? Hopefully Not Sucking The Dancing Bears' Dick!

Ashley's Bachelorette Party
We turned Ashley's bachelorette party into an all out cock sucking fiasco! You never know what's going to happen when the Dancing Bear and his pals come through, and this was no exception! Ashley even took her turn sucking cock and licking ass on the night before she ties the knot!

Party Party Party!!
When the girls want to see some dick swinging action they always book the Dancing Bear. We're doing events at least twice a week now and the boys are happy to have their dick in and out of brand new beautiful female mouths. Check out these wild women chomp down on some hard dicks!